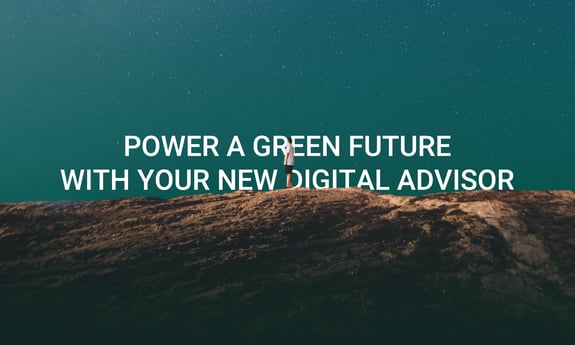 MAKE YOUR BUSINESS GREEN
- ONE STEP AT A TIME
The digital advisor, powered by AI and data, effortlessly guides you through green transition with 1:1 recommendations and anchoring. Strengthen competitiveness today with tomorrow's energy advisor.
ALL INFORMATION IN ONE PLACE
We have gathered knowledge from Denmark's leading energy experts, cases, and experiences from companies and added a wealth of tools. All conveniently located in one place.
The solution is designed as an efficient process tailored to your needs. You work with a wealth of information to ensure that all measures can be implemented and anchored correctly within your organisation.
NOTIFICATIONS FOR NEXT STEPS
Receive timely information directly in your inbox. Know when it's time for the next steps, when to begin implementing measures, and much more. Everything at your fingertips, always.
THE VIRTUAL PROCESS
IN NUMBERS
300
+
RECOMMENDATIONS, CASES, & TOOLS
10
-30%
ESTIMATED ENERGY SAVING
DIGITAL ADVISOR
SOLUTION
Complete7 is a 7-12-month digital program designed to identify the low-hanging fruits that you can reap from green transformation. This is achieved through a process where we collaboratively develop a strategy and plan based on our complex engine and data, as well as information about your company. You'll then receive specific recommendations, knowledge, cases, calculators, and more, tailored to your company's unique needs. The program is 100% personalised and individualised. We guide you through the entire process, providing quarterly reports and a year-end report, ensuring an effective, cost-efficient journey toward green transformation.
THE THEMES
GREEN YOUR BUSINESS

ONE THEME AT A TIME
You control the order of the nine themes. This way, the program can be tailored 100% to your preferences, allowing you to start where it makes the most sense. We provide recommendations, but ultimately, you have full control
DATA & KNOWLEDGE HUB
The solution relies on a complex knowledge database about energy optimisation in small and medium-sized enterprises. You gain access to:
AI & ANALYSIS
The solution leverages Artificial Intelligence (AI) to create the optimal program for you. This means sorting through all data points and knowledge in the database to provide you with relevant information to your current situation.
This way, you can be guided forward easily and efficiently.
DOCUMENTATION & EVIDENCE
Through your work on energy optimisation with Complete7, you have the opportunity to create concrete evidence of your commitment to green transformation.
This becomes even more apparent if you choose to work with Complete7's newly developed ISO 50005 program, where you can implement energy management in your organisation. The ISO standard provides additional documentation that can be presented to suppliers, customers, and other stakeholders."
THE PROCESS &
AND THE THOUGHTS BEHIND
Our intelligent digital advisor helps you identify and harvest low-hanging fruit for energy optimisation. It makes it easy, simple, and cost-effective for small and medium-sized enterprises to go green while ensuring that you can stay focused on your core business.
The digital advisor is structured as a program tailored to your situation. This means that all information is presented in the best order for you.
At the same time, there will be constant follow-ups so you can track progress and identify areas for improvement.
You receive information at the right time and place, ensuring you always have an overview and the capacity to implement all recommendations in your company and organisation.
EXPERIENCE THE SOLUTION
If you want to see the solution or learn more, you can sign up here. It is, of course, without obligation.